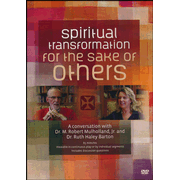 Spiritual Transformation for the Sake of Others: A Conversation with Dr. M. Robert Mulholland, Jr., and Dr. Ruth Haley Barton
Author: M.Robert Mulholland Jr. and Ruth Haley Barton
Retail Price: $18.00
Our Price: $9.49
Save: 8.51 (47.28%)

Availability: In Stock

What is spiritual transformation—really? How can we move from the false self to the true self in Christ? Is it possible to talk about sin without being judgmental? What is the relationship between personal spiritual formation and our mission in the world? Listen in as Robert Mulholland and Ruth Haley Barton discuss these questions and share stories of their own journeys of transformation in Christ. This compelling 65-minute dialogue is presented in twelve brief segments:
Invitation to a Journey: Defining Spiritual Formation (6 min.)
Real Change: From Information to Transformation (4 min.)
Holistic Spirituality: Addressing the Whole Person (4 min.)
Holistic Spirituality: Nurturing the Shadow Side (4 min.)
Let's Talk About Sin: The Habitual Failures of the Spiritual Journey (4 min.)
Joining Head and Heart: From Theology to Formation and Back Again (8 min.)
Shaped by the Word: The Role of Scripture in Spiritual Transformation (9 min.)
The Deeper Journey: From the False Self to the True Self (5 min.)
For the Sake of Others: In God for the World (5 min.)
To Present Everyone Mature in Christ: The Nature of Spiritual Leadership (3 min.)
Equipping the Saints for the Work of Ministry: Encouragement for Pastors (9 min.)
In Sickness and in Health: Relying on God in the Journey with Cancer (4 min.)
Ideal for use in leadership, congregational and small group gatherings. Each segment is followed by questions for reflection and discussion, enabling you and your group to join the conversation as you pursue spiritual transformation in your setting.
---
Similar Items you may enjoy!