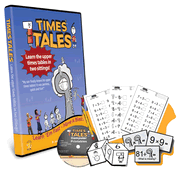 Times Tales DVD - Slightly Imperfect

Retail Price: $29.95
Our Price: $19.19
Save: 10.76 (35.93%)

Availability: In Stock



Times Tales is a creative, innovative, mnemonic-based program that makes it fun and easy to memorize the upper multiplication and division facts. Cute, simple stories provide students with a 'memory peg' that allows them to quickly and easily recall otherwise abstract facts. Times Tales covers the most difficult to remember facts that can't quickly be calculated by skip counting: 3x6,3x7,3x8,3x9,4x6,4x7,4x8,4x 9,6x6,6x7,6x8,6x9, 7x7,7x8,7x9,8x8,8x9,9x9.

Students are introduced to each number as a 'character.' For example, the number seven is Mrs. Weeks because there are seven days in a week. Once students learn the number characters, they learn short, simple stories where the numbers interact in some fashion. Students simply picture two number characters together to recall the story, which includes the answer to the multiplication fact. It's amazing how much easier it is for students to recall a simple story, than an abstract fact!

Once they know the multiplication facts, they'll also automatically know the division facts! All they have to do is picture the story and note which character is missing. Slightly Imperfect.
---
Similar Items you may enjoy!