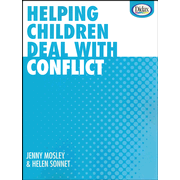 Teaching children how to cope with conflict effectively will benefit their personal development and your ability to teach. This concise book includes 18 lessons that will help you to teach children to explore, practice, and develop the skills needed for successful conflict resolution that they can build on their entire lives!
A range of games and activities are presented to develop thoughtfulness, self-awareness, and cooperation, as well as resources for how to support children who often find themselves involved in conflict. 48 pages. Grades 1-6.
---
Similar Items you may enjoy!

Helping Children Deal with Anger
Author: Jenny Mosley and Helen Sonnet
Our Price: $9.99


Helping Children Deal with Bullying
Author: Jenny Mosley and Helen Sonnet
Our Price: $6.99


When Children Grieve: For Adults to Help Children Deal with Death, Divorce, Pet Loss, Moving, and Other Losses
Author: John W. James, Russell Friedman and Leslie Matthews
Our Price: $13.49


When Children Grieve: For Adults to Help Children Deal with Death, Divorce, Pet Loss, Moving, and Other Losses - eBook
Author: John W. James, Russell Friedman and Leslie Matthews
Our Price: $14.99