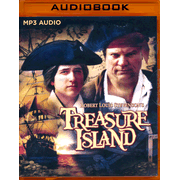 Journey into this classic tale of Treasure Island. Join Jim Hawkins, Dr. Livesey, and Squire Trelawney as they discover Captain Flint's missing Treasure map and charter a boat to uncover this missing loot. With action and adventure, and plenty of danger, Jim and his friends find themselves at odds with their crew, many of which were members of Flint's crew and are vying for the map and treasure for themselves. Featuring Joseph Zamparelli as Long John Silver and Anastas Varinos as Jim Hawkins, this dramatized version of Robert Louis Stevenson's classic comes to life with a full cast, thousands of sound effects, and an original music score.

Unabridged MP3-CD; approximately 2 hours 39 minutes; 1 MP3-CD; performed by Joseph Zamparelli, Anastas Varinos, and The Colonial Radio Players.
---
Similar Items you may enjoy!