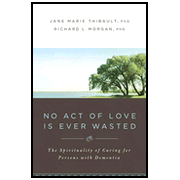 Caregivers have two basic needs: affirmation that caregiving is not in vain and reassurance that the lives of those for whom they care are not being lived in vain. Care receivers need more than medical attention; they need tender care, involvement in the community, and a sense of connection with a loving God. When patient and caregiver regard this shared experience as a 'mutual spiritual path,'each plays a role in deepening the spiritual life of the other.

No Act of Love is Ever Wasted is an excellent resource for individuals caring for loved ones as well as for counselors,support group leaders, pastors, and other professionals. In addition to offering practical ways to help, this book serves as a reminder that every act of love brings positive transformation to the recipient, to the giver, and to the world.
---
Similar Items you may enjoy!