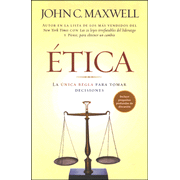 Etica: La Unica Regla Para Tomar Decisiones (There's Not Such Thing as Business Ethics)

Author: John Maxwell
Retail Price: $10.99
Our Price: $8.99
Save: 2.00 (18.20%)



John C. Maxwell no solo revela las distintas formas que la Regla de Oro utiliza a fin de crear el ambiente adecuado para el exito en los negocios, sino que tambien lo hace con gran sabiduria, cordialidad y sentido del humor. Respaldando por impecables investigaciones y las ideas de los mejores pensadores de la historia, este cautivante libro le muestra una manera brillante de hacer bien las cosas, posibilitando una situacion ganadora para todos, con resultados positivos para los empleados, clientes, inversionista e incluso su propio estado mental. Dirigira sus negocios con mas seguridad, las ganancias aunmentaran y tendra la seguridad de que ha establecido los cimientos para aďos de futura prosperidad...y todo eso gracias a la comprobada y verdadera Regla de Oro. Pasta suave, 125 páginas.

John C. Maxwell not only reveals the many ways the Golden Rule creates the perfect environment for business sucess, but does it with great wisdom,warmth, and humor. Backed by flawless research and the ideas of history's best thinkers, this engaging book brilliantly demonstrates how doing the right thing fosters a winning situation for all, with positive results for employees, clients investors, and even your own state of mind. Business runs much more smoothly, profits increase, and you know that you've the groundwork for years of future prosperity...and it's all thanks to the tried and true Golden Rule. Softcover, 125 pages.
---
Similar Items you may enjoy!