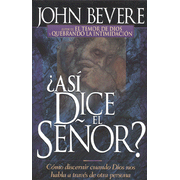 and#191Asand#237 Dice el Seand#241or? (Thus Saith The Lord?)

Author: John Bevere
Retail Price: $9.99
Our Price: $8.99
Save: 1.00 (10.01%)

Availability: In Stock



You can discern truth from deception. Jesus sternly warned, 'See to it that no one misleads you.' (Matt. 24:4, NAS) To be mislead is to be deceived. Jesus makes it clear - it is our responsibility to discern truth from deception. This includes rightly dividing genuine spiritual authority from conterfeit. This crucial and timely message reveals how to recognize true and false authority, the deceptive tactics of false authority, what brings spiritual maturity, and much more.

Como se da cuenta usted cuando es Dios quien esta hablando? Hoy dia hay una insaciable hambre por la palabra profetica del Senor. Los cristianos estan ansiosos por recibir 'palabras del Senor' y compartirlas. Junto al genuino deseo por lo real, viene tambien la vulnerabilidad a los ministerios profeticos falsos o excesivos. Con mucha frecuencia, los 'profetas' modernos corren a traves de nuestras iglesias, fraternidades y hogares, dando palabras casi como adivinos. Pero es realmente Dios quien esta hablando?
---
Similar Items you may enjoy!