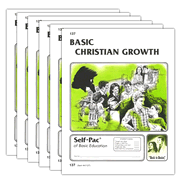 High School Bible Electives: Christian Growth PACEs 133-138
Retail Price: $19.80
Our Price: $19.19
Save: 0.61 (3.08%)

Availability: In Stock

Accelerated Christian Education (ACE) curriculum has Scripture as its foundation, fully integrating biblical principles, wisdom, and character-building concepts into education. Students move at their own speed through the self-instructional 'PACE' workbooks. Following the mastery approach, PACEs are formatted for students to complete the exercises found throughout the workbook, take a practice 'self test,' and conclude with a 'final test' (torn out from the center) to measure understanding. Basic Christian Growth curriculum is designed to help students understand themselves better and to help them evaluate their relationship and service to Christ, bringing them into a stronger faith. This set includes PACEs 133-138, and contains the following:
A study of The School of Obedience by Andrew Murray
A study of The Hour that Changes the World and engaging in world-changing prayer.
A study of Nervous Christians, by L.G. Little, and T.H. Epp. A study of nervous disorders, psychosomatic suffering, and psychotherapy as written by a Christian doctor.
A study of The Spirit-Controlled Temperament, by Tim LaHaye. A discussion of the four basic temperaments and how God uses them in a Christian dedicated to Him.
A study of When a Christian Sins, by John R. Rice. A study of what happens when a Christian sins - how his life is affected and how he can avoid sin.
A study of This Way of Happiness, by Clyde M. Narramore. A study of the basic needs of all humanity and how they are met fully in Christ.

Paperback booklets. This resource is listed as 'college' or post-secondary curriculum; parents may wish to consider for high school grades 8 & up. PACEs 133-138.

Answers are not included, but are available in the sold-separately SCORE keys.
---
Similar Items you may enjoy!