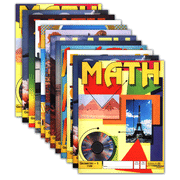 Grade 10 Geometry PACEs 1109-1120
Retail Price: $39.60
Our Price: $38.59
Save: 1.01 (2.55%)

Availability: In Stock

Accelerated Christian Education (ACE) curriculum has Scripture as its foundation, fully integrating biblical principles, wisdom, and character-building concepts into education. Students move at their own speed through the self-instructional 'PACE' workbooks. Following the mastery approach, PACEs are formatted for students to complete the exercises found throughout the workbook, take a practice 'self test,' and conclude with a 'final test' (torn out from the center), to measure understanding.
Please Note: Prerequisite Algebra 1
This set includes Geometry Grade 10 PACEs 1109-1120, which cover:
To reason logically and systematically.
Properties and theorems and how to use them for solving problems-converse and construction, parallelograms, tangency, exterior angle; Hinge, Pythagorean, and regular polygon theorems.
Types of shapes, angles, arcs, and chords, and learns to find the circumference and area.
Tangents, secants-angles formed and intersecting within a circle.

A variety of exercises help with review and retention. 47 pages each, paperback booklets. Grade 10. PACE 1109-1120.

Answers are not included, but are available in the sold-separately PACE Score Key Set.
---
Similar Items you may enjoy!