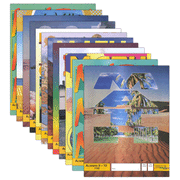 Grade 11 Algebra 2 PACEs 1121-1132
Retail Price: $39.60
Our Price: $38.59
Save: 1.01 (2.55%)

Availability: In Stock

Accelerated Christian Education (ACE) curriculum has Scripture as its foundation, fully integrating biblical principles, wisdom, and character-building concepts into education. Students move at their own speed through the self-instructional 'PACE' workbooks. Following the mastery approach, PACEs are formatted for students to complete the exercises found throughout the workbook, take a practice 'self test,' and conclude with a 'final test' (torn out from the center), to measure understanding.
Please Note: Prerequisite Algebra 1
This set includes Algebra 2 Grade 11 PACEs 1121-1132, which cover:
Real number axioms and applications.
Radicals and complex numbers.
Fractions and operations, equations and decimals.
Equations-linear and graphs, quadratic solutions, relations and polynomial functions.
Arithmetic and geometric sequences and series, and sentences with one variable.
Multiplication of polynomials, factoring monomials, squares, groups, and open sentences.
Computations, exponential functions, logarithms, and antilogarithms; and permutations,combinations, binomial expansions, and probability.
Matrices and their properties, determinants of equations, and systems of equations.

A variety of exercises help with review and retention. 33 pages each, paperback booklets. Grade 11. PACE 1121-1132.

Answers are not included, but are available in the sold-separately PACE Score Key Set.
---
Similar Items you may enjoy!