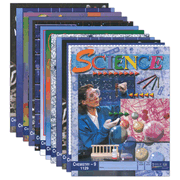 Grade 11 Chemistry PACEs 1121-1132 (3rd Edition)
Retail Price: $39.60
Our Price: $38.59
Save: 1.01 (2.55%)

Availability: In Stock

Accelerated Christian Education (ACE) curriculum has Scripture as its foundation, fully integrating biblical principles, wisdom, and character-building concepts into education. Students move at their own speed through the self-instructional 'PACE' workbooks. Following the mastery approach, PACEs are formatted for students to complete the exercises found throughout the workbook, take a practice 'self test,' and conclude with a 'final test' (torn out from the center), to measure understanding.
Please Note: Prerequisites Biology, Physical Science, Algebra 1
This set includes Chemistry Grade 11 PACEs 1121-1132, which cover:
the history and development of chemistry
careers and fields of study
nuclear chemistry and biochemistry
chemical reactions and balancing equations
acids and bases
the four phases of matter
molecular bonding
the Periodic Table of Elements
thermodynamics and quantitative and qualitative analysis
A variety of exercises help with review and retention. 29 pages each, paperback booklets. Grade 11. PACE 1121-1132.
Answers are not included, but are available in the sold-separately PACE Score Key Set.
Activity Pacs are included as a center insert within each PACE.
---
Similar Items you may enjoy!